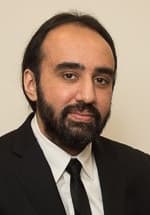 Rip Gajjar has been with The Firm since 2006. Rip assists clients with various business transactions and complex litigation matters. He offers individualized attention to businesses and entrepreneurs seeking growth opportunities and dispute resolution.
Rip has been involved in numerous complex commercial litigation matters involving breach of contract, unfair competition and misappropriation of trade secrets.
He has also represented businesses with all aspects of commercial transactions, from entity formation, drafting partnership agreements and employment contracts, and filing and defending trademark applications.
Rip has also been involved in helping companies obtain the proper licenses and authorizations to expand into new areas of business and enter new markets.
Rip began his legal career as a paralegal and subsequently attended St. John's School of Law where he was a member of the New York International Law Review. He interned at the Department of Enforcement at the Financial Industry Regulatory Authority (FINRA) and was involved in bringing regulatory actions against firms such as Lehman Brothers, UBS and E-Trade.
Rip also interned at the Litigation Bureau of the Office of the Attorney General of New York where he represented several State agencies such as the Department of Banking and the Board of Regents, and defended actions filed against State judges.
Rip has in-depth knowledge of federal and local securities laws inclusive of those which facilitate raising capital for small and mid-cap companies without the cost of a public offering.
Additionally, Rip closely follows current regulations and market trends that impact the start-up sector.
Education
Queens College, City University of New York, B.A., 2002
University of California, San Diego, M.A., 2004
St. John's University School of Law, J.D., 2011
Staff Member, New York International Law Review
Admission and Memberships
New York State Bar, 2012
New Jersey State Bar, 2011
U.S. District Court for the Southern and Eastern Districts of New York
United States District Court for the District of New Jersey
Other Interests
Computing, networking and technology applications
World travel and urban hiking
Playing guitar and recording music