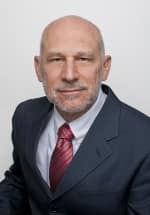 Richard H. Wender is Of Counsel to The Firm and has been engaged in the practice of law for nearly 40 years. He began his legal career with the U.S. Security and Exchange Commission where he worked in the New York Office for its Division of Enforcement.
At the SEC, he worked as a trial attorney and later, as a Branch Chief responsible for the enforcement efforts of a team of trial attorneys. While at the SEC, Rick developed numerous cases from investigation to trial and through appeal, several of which ultimately ended up as criminal as well as civil actions.
More than 30 years ago Rick developed an expertise in all aspects of business law, from performing a general counsel function for our clients to mergers, acquisitions, buy/sells, licensing, financing, as well as all type of manufacturing and distribution contracts.
In 1990, Rick received his LL.M. in Taxation from NYU, and serves as The Firm's senior tax attorney. His tax expertise has been instrumental in devising general tax strategies, advising clients as to tax implications in structuring domestic and international corporate transactions, tax defense work, and wealth transfer arrangements by gift, trust or bequest. He is also an expert on trusts and estate issues.
Finally, Rick's expertise extends to real estate as well, where he handles all aspects of sales, leasing, and financing on behalf of buyers, sellers, landlords, tenants, lenders and brokers.
From 1990 to 1994, Rick was an Adjunct Tax Professor at Baruch College at its graduate Business School. He was responsible for teaching federal tax to candidates receiving a Masters of Accountancy.
Education
State University of New York at Buffalo (B.A. magna cum laude, 1973 and J.D. magna cum laude, 1976)
New York University School of Law (LL.M. in Taxation, 1990)
Admission and Membership
New York State Bar, 1977
United States District Court for the Southern District of New York
United States District Court for the Southern District of New York
Other Interests